Schoolphysics online is freely available to all
This is an invaluable resource base for all 11 to 19 year old Physics students and their teachers.
You can also buy an electronic version of 'The New Resourceful Physics Teacher' book and a complete version of the Schoolphysics website on a USB memory stick - see below for details.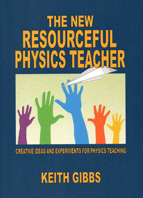 The New Resourceful Physics Teacher eBook
Creative ideas and experiments for Physics teaching.
No longer available in print, you can now get the full content of the book on USB memory stick.
Price: £22 incl. post and packing
The full content of this website is available on USB memory stick for you to view offline.
This includes answers to the 3000 problems on the site, a sample of the New Resourceful Physics Teacher experiments, lesson plans, tests and answers, data projector sheets and all the online material with the exception of Photographic images.
Price: £35.00