Switches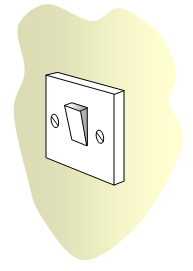 Switching on the radio
Switching on a light by a wall switch
Switching on the cooker
Switching on a computer
Switching on an electric toothbrush
Switching on a TV
Switching on a light by a pull cord
These are just a few of the uses of switches in your homes.
There are many different ways in which a switch can be turned on or off. Here are some of them:
(a) person – light switch
(b) light – street lights
(c) infra red beam - TV or stereo remote control
(d) movement – security light
(e) heat – security light
(f) sound – controls for disabled people
(g) electronic – turning off a computer by clicking the mouse
(h) touch – touch sensitive table lamp
(i) ultrasonic beam – car reversing impact warning
(j) pressure – seat belt warning light
Think about the different sorts of switches in your home
(a) ordinary ON-OFF switch
(b) dimmer switch – use it to turn lights on and off and control how bright they are
(c) timer switch – it goes off after a certain time controlled by electronics or a spring
These switches all control electricity but what about a water tap, that is a kind of switch but this time it controls not electricity but water.
A VERSION IN WORD IS AVAILABLE ON THE SCHOOLPHYSICS USB