Lawnmower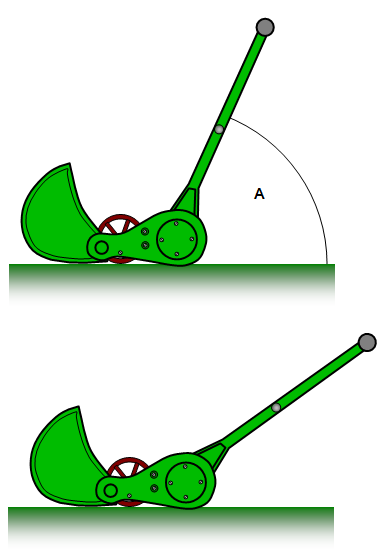 Question: Can you tell me at what angle it is easier to push a lawnmower?
I suppose it has something to do with vectors.
Answer:
You should lower the end of the handle so that the handle itself makes a smaller angle with the ground. As you say the problem has to do with vectors.

The component horizontally is F cosA where A is the angle between the handle and the ground. As A gets smaller cosA gets bigger. If the handle was to be parallel with the ground the component would equal F, the total pushing force.



So really the best position for the handle would be parallel to the ground! However this is not the easiest position for you to push as you would have to be crawling. So the easiest position is a compromise between the handle being parallel and the position of your hands when standing up. To determine this we would need to look at the Physics of the human body.
A VERSION IN WORD IS AVAILABLE ON THE SCHOOLPHYSICS USB